Growing Together Thinking about ourselves as a church and our mission
---
Your Default in our Time Poor World
We have written before about how fast paced our lives have become. In our attempts to cram in more activity we can squeeze out opportunities for God-given ministry. The expression many use is being Time Poor. In the worst case we simply have no time for each other …
---
Attend to Your Rhythm and Diet
Anyone who has watched the BBC Drama 'Call the Midwife' for a series or two will have seen how the nun-midwives weave together a life of prayer and practical service through nursing. Whilst few of us might consider becoming a nun, surely we can all learn stacks about their intentional spiritual rhythms and diet. Scenes encountered out in the world are brought in prayer by the faith community, which has a deliberate underlying beat of worship that fuels their ability to nurse.
---
Community Ministers
Jesus told his disciples 'The harvest is plentiful, but the workers are few' (Matthew 9:37). Being a worker takes many forms and can be done in all kinds of ways. As a church we want to recognise people who are ministering in diverse ways, by talking about Community Ministers.
---
All Age Worship, 'Oikos', and the Extended Family
One of our church posts on Facebook:
Today we had a wonderfully happy and creative service at Church – tapping into the God given creativity that is in each of us. Young and old we had people writing songs, poetry, drawing, and impromptu drama being performed – I was a puffer fish in my part re-enacting creation. I was highly commended on my fine fish like qualities …
---
Margin for Jesus
Contemporary life becomes ever more fast paced, compressed and over-crowded. We cram in more and more … because we can! Transport, communications, internet and opportunity all play their part. We soak all this up believing life is good.
---
Big Things for Us as a Church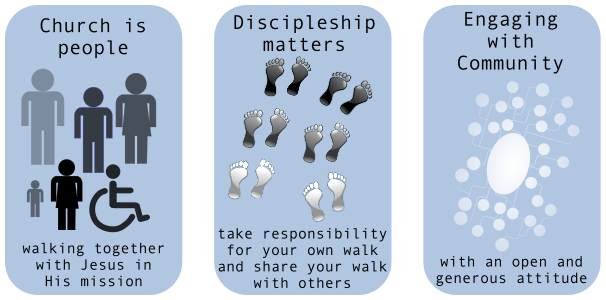 ---
Menu of Mission Possibilities
At the Countess Free Church there are a number of mission possibilities across the life of the church, as well as the possibilities for individuals in their diverse places of work, school and so on. The current ones are captured in a menu of mission possibilities:
---