Mission Activity Teams
---
Within the life of the church there are several ongoing mission activities. These include 2×2, Dads 4 Kidz, and the recently added Rich Tea Club. None of these activities could take place without people dedicating their time and energy to making these happen.
These volunteers form 'Mission Activity Teams' – the teams that make the activities happen. Typically they will have a core of those who take the lead in organising etc. They will also have other volunteers who help out in various ways. They may well include people who have little or even no faith but just want to help out – we are glad to be inclusive, encouraging everyone to see how faith works as we get stuck in together.
The teams set their own spirituality amongst themselves – letting God be present among them as they operate. We encourage the team members to look out for each other, support each other, and draw newcomers in. Typically members of the team will also have a link with a small group: we encourage the small groups to own or adopt a mission activity. Sometimes this gives a strong overlap between mission activity and small group. Small groups might not be just about that one activity however, and may have members who are not directly involved.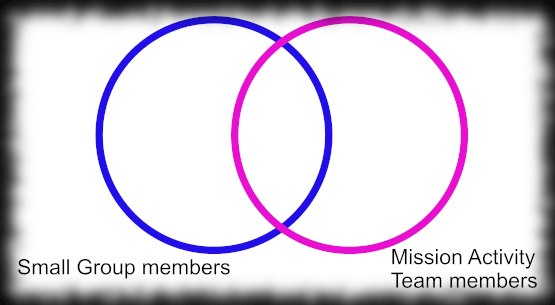 Our Mission Activity Teams enable us to reach out as a church – they do amazing stuff week by week, and contribute to us being a church in mission across the city.