Upcoming Events Upcoming events and other news.
---
Gifts Workshop – This Sunday 26th
Our next Gifts Workshop is this Sunday, January 26th at 7pm.
These workshops are informal times where we have some teaching and then hands-on practice where we explore prayer ministry in the flow and work of the Holy Spirit. There is always a chance to be prayed for, as well as encouragement and coaching in learning to pray for others yourself.
The event is open to all Christians who want to come and explore with us. We usually finish up by 8.30pm.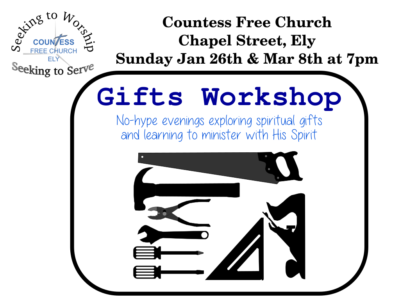 ---
10 Years of Shine Celebration
Shine Girls days have been running for 10 years and we want to celebrate! On Saturday 28th March from 6pm to 8pm a celebration event will be held at the Lighthouse Centre on Chapel street.
→Read More …
---
'My Life – His Way': New Series Starts January 5
For the year 2020 we start a new series: "My Life – His Way" – practical living as a Jesus-follower in the 21st century.
→Read More …
---
Rich Tea Club – Starts January 5th
The Rich Tea Club for adults with learning disabilities opens its doors for the first time at 3pm on Sunday 5 January 2020. The group will meet regularly on the first Sunday of each month from 3pm to 4.30pm at the Countess Free Church, Ely.
Members of the Countess Church and friends from other churches across Ely have come together to launch this new club to create a space for people with learning disabilities to experience the richness of life in the Christian faith.
Cate Allen, co-founder of the group, said "Rich Tea Club desires for church to become a more accessible place for people with a learning disability. Everyone is of value and has something wonderful to offer. Rich Tea Club aims to be a place where we will all be growing in our uniqueness and learning from each other."
Meetings at Rich Tea Club will include Bible stories and time to share news and reflect, as well as activities such as crafts, music, singing and drama. There will of course be hot and cold drinks and biscuits!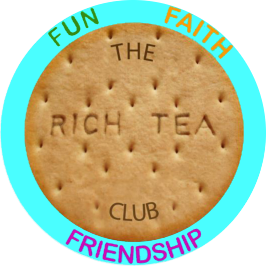 Margaret Human, another co-founder of the group, just can't wait for the first meeting. She said "We would love everyone to come along and join in and have a good time."
To find out more call Cate on 07425 650454
---
Crib Service – Christmas Eve at 4.30pm
Christmas Eve, gathering friends and family for the Christmas story. Our popular Crib Service is at 4.30pm at the Countess Free Church
→Read More …
---
Shine 2020
Saturday 28th March 2020, from 10am to 4pm at the Countess Free Church – the Shine 2020 day for girls in school years 7 to 11 … 'Be Loved'!
Now in its 10th year, this year's activities include 4D Street Dance, Vocal Workshop, Pamperzone, Creative Workshop, and more. This is a day for girls to building confidence, courage, and character all with the backdrop of the Christian faith.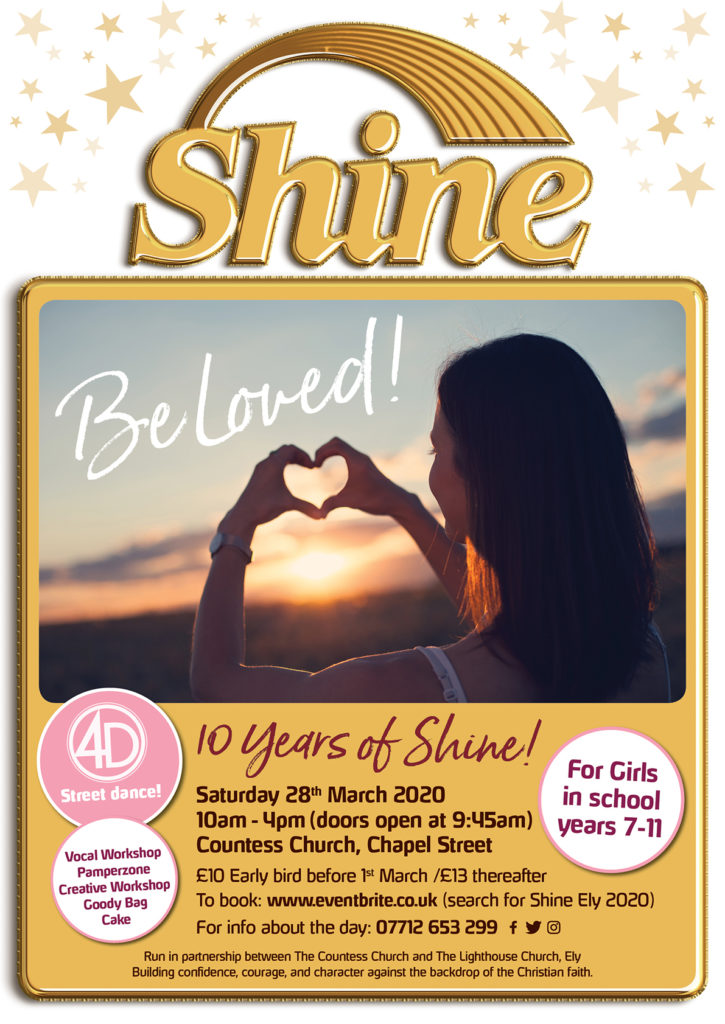 Booking essential: £10 Early bird before 1st March, £13 thereafter. To book go to www.eventbrite.co.uk and search for 'Shine Ely 2020'. For info about the day, phone 07712 653 299.
Doors are open at 9.45am. Lunch and refreshments are provided.
---
Ely Brick Show 2020
Please note the Ely Brick Show has cancelled because of the dramatic changes caused to everyone's schedules by the Corona virus. We do hope to re-schedule in 2021. We apologise for not being able to go ahead this year.
A showcase for some fantastic Lego models – this event currently with no scheduled date from 10am until 4pm here at the Countess Free Church. Admission: Adults £3 Children £1 – simply pay on the door – great for all the family!
→Read More …
---
« Previous Page
—
Next Page »